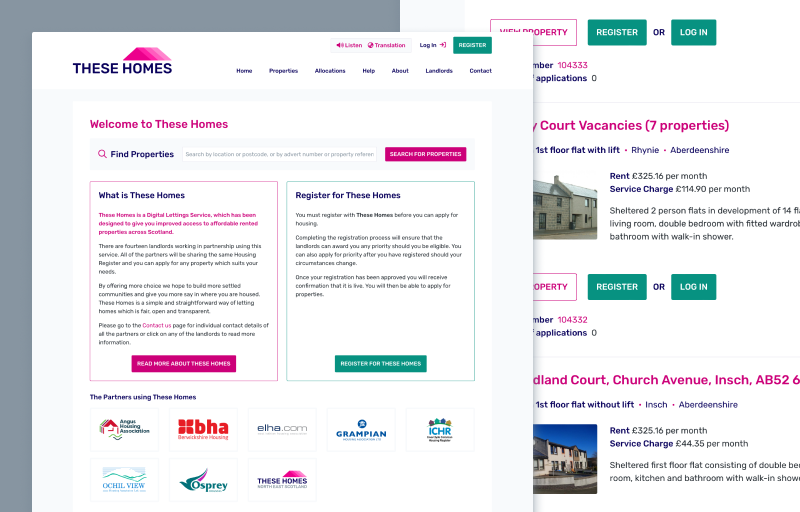 In April 2021, working in collaboration with seven Housing Associations (known as The Collective), Housing Online launched These Homes. These Homes is a Digital Lettings service designed to give the customers and prospective tenants of The Collective improved access to affordable rented properties across Scotland.
The original seven partner Housing Associations involved in the creation of These Homes were: Berwickshire Housing Association, East Lothian Housing Association, Grampian Housing Association, Ochil View Housing Association, and These Homes North East – a group of three Registered Social Landlords comprising Castlehill Housing Association, Hillcrest Homes and Sanctuary Scotland Housing Association.

The demand for properties will always outstrip supply, but These Homes aspires to let homes to tenants in a fair and transparent way. Applicants only have to register on the site once and then have the ability to apply for properties advertised by any of the partner Housing Associations.
The success of These Homes can be seen by the uptake: by the summer of 2022, some 16 months after launch, These Homes had just under 20,000 registered users and had allocated some 1,540 properties. In the first twelve months of operation, users of the system scored it at an impressive 8.21 / 10.
Working collaboratively with the seven original members of The Collective was a hugely rewarding process. But how did The Collective find the experience of working with Housing Online?
"Housing Online are amazing to work with and totally understand the needs of the landlords in what we were and are trying to achieve"
"The communication was excellent and they explained everything without being overly technical. Housing Online were also very approachable and I felt I could contact about any issue or query, no matter how small, and they always responded quickly"
"It was great to work with a company who put their client first. Suggestions made by the client were always listened to, and feedback from Housing Online about possible ways to address issues was helpful"
"The finished product is excellent and you have transformed our requirements into a system that is not only straightforward for landlords to use but also easy for applicants to register, have their housing need assessed and apply for available properties"
After the successful launch of These Homes, three new landlords joined The Collective in 2022: Angus Housing Association, Inverclyde Common Housing register and Osprey Housing.

But how does it feel to be joining such a well-established group with a system that's already up and running?
Here's Louise Carlin, Head of Housing Services at ICHR:
"These Homes offered everything that we were looking for and is more user friendly than other software on the market. We had been using another CBL software for a number of years but became increasingly frustrated with the poor customer service and over complicated systems. These Homes does what it says on the tin! We also knew how good the support team were, given that we were already using the tenant portal provided by Housing Online".
Jessica Ellis, Choice Based Letting Coordinator at Angus:
"The Association decided to proceed with These Homes as the system was well operated and established. We were joining a Collective that had worked with CBL for a long time so felt confident that the system could deliver what we were looking for in order to implement CBL to our Association successfully. We felt as though These Homes was easy to navigate and user friendly".
"I can honestly say that Housing Online are the best software company I have worked with over my 30 years in housing (and there have been many) "
And how hard was the implementation for the new members of The Collective?
Here's Louise again: "The implementation couldn't have gone any smoother! Housing Online nailed it! Our leadership team still talks about how successful the implementation was, there honestly wasn't a single hitch".
Jessica: "The implementation went well. We had a very short window for joining from our first demo to going live, but we managed to get our requirements set up in time. We were kept informed and anything extra we required from the system was explained to us and actioned. We managed to join the Collective and go live within just shy of 3 months. It was a busy, stressful time for staff (and for Housing Online probably!) but we managed it and our applicants could register for These Homes before we started to advertise all of our available properties on the site".
What has it been like working with a Collective of other Housing Associations?
Jessica: "The Collective has been very informative for us. We are new to CBL so we have benefitted from the knowledge of the other Collective members. They have been very welcoming and have sat with us to discuss how they implemented CBL to their association, things to look out for, potential downsides etc. The quarterly meetings are very useful for us, as it allows us to discuss issues we have identified and discuss these with other members to get their view on how they deal with things. We are the only Association who operates CBL within one of our geographical areas so it has been helpful having the other Collective members there to go to for advice".
How has These Homes been received by staff and tenants?
Here's Stacy Angus Chief Executive at Osprey Homes:
"From the outset Housing Online were very clear on the process and the setup seems to have worked well from day one. It has been really well received by staff and by tenants too. We did a demo to our Board last week and they really liked how the system worked and the external facing professionalism of it".
How have you found the process of working with Housing Online?
Here's Louise again: "I can honestly say that Housing Online are the best software company I have worked with over my 30 years in housing (and there have been many). All the staff are super helpful, skilled and knowledgeable. Nothing is ever a bother!"
Jessica: "We have found our experience with Housing Online very positive. We can approach them with any issues or ask for advice and they are always happy to help. The support team are very responsive and any issues we have found have been resolved quickly. CBL is very new to us, so we have had to change a few things already such as adding priority passes etc. however, this has not been a problem and have been actioned very promptly. The quarterly update meetings are always positive and allows an opportunity to identify any potential upgrades and discuss any faults with the system. Housing Online seem to be constantly improving and upgrading the system, which is great".
About Housing Online
Housing Online design and build digital solutions for Housing Associations across the UK and beyond. Our My Home Tenant Portal is live in 25 organisations across Scotland, Northern Ireland and England, many with fully integrated websites designed and developed by our team. In April 2021, in collaboration with seven Scottish Housing Associations, we successfully launched These Homes, a Choice Based Lettings web solution.